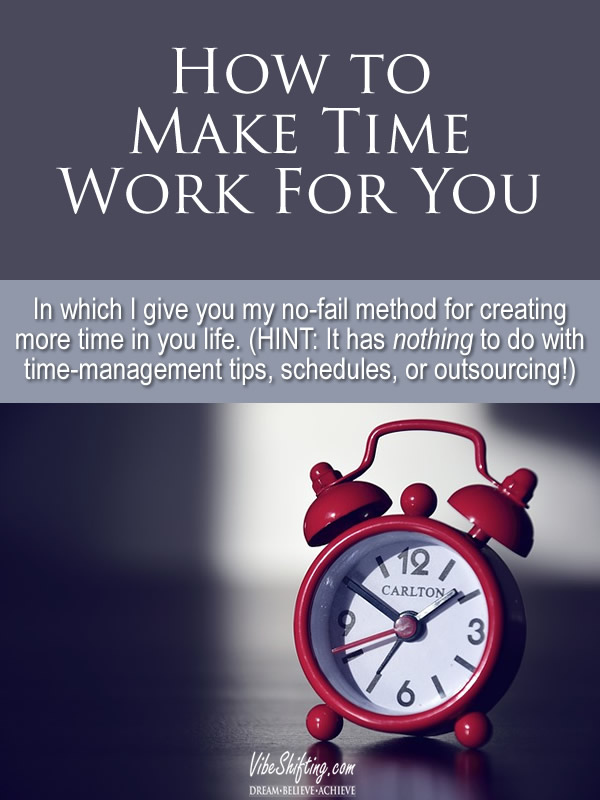 Today we are talking about how to make time work for you. Have you ever wished you could find a way to create more time in your life, or thought about how much easier things would be if you could just squeeze an extra hour into your day?
For so many people these days, time has become a far more precious resource than money. And despite all of the time-saving gizmos and gadgets that have been invented over the last few decades, we still don't seem to be any closer to having more time available in our lives. In fact, most of us still feel like we're running around like loose cannons most of the time.
That's why, in today's podcast, we're talking a look at what modern physics tells us about the nature of time itself, and how we can use this information to actually do just that — create more time in our days! I also give you my no-fail method for stretching time when I'm feeling particularly rushed. This is an experiment that I've tried in my own life many, many times, and found that it always works.
[powerpress]
If you tend to find yourself rushing around a lot and struggling with the time-crunch, give this experiment a try in your own life and start making time work for you, rather than just being swept along with it! Be sure to leave a comment and let me know your results – as I said, I've always had the same time-stretching results when I use this method, but I'm really curious to see how it works for others.
If you're enjoying this episode, please take a moment to review the show – it would be so very much appreciated!  New to the show or missed an episode you want to catch up on? Back episodes of The Vibe Shifting Show can be found at: https://www.vibeshifting.com/vibe-shifting-show-podcast/
photo credit: pixabay.com cc (modified by me)