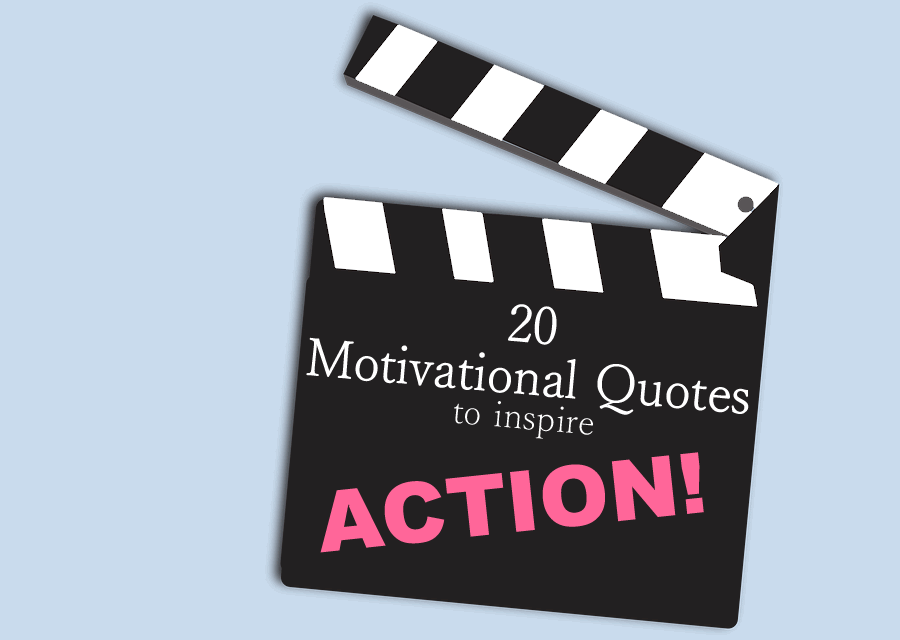 We all know that action is necessary to get us to where we want to be in life. But dealing with motivational slumps now and then is just part of the game, and all of us have battled with the procrastination monster at one point or another. Finding little tricks and methods of getting ourselves back on track when these things happen is important for keeping ourselves on track and making progress, and one of my favourite ways of doing that is with motivational quotes that really remind me what's important to me and why I'm doing what I do.
We're at the start of a new week today, so your challenge on this Motivational Monday is to pick one thing from your task list that you know will move you closer to your dream, and promise yourself that you will do it! To help inspire you to get going, I've pulled together a list of 20 of my favourite motivational quotes to inspire that al-important action:
If you don't go after what you want, you'll never have it. If you don't ask, the answer is always no.
If you don't step forward, you're always in the same place. ~Nora Roberts
 You miss 100% of the shots you don't take. ~Wayne Gretzky
 Sometimes the bridges that are the hardest to cross lead to the most magical places. ~Unknown
 Do you really want to look back on your life and see how wonderful
it could have been had you not been afraid to live it? ~Caroline Myss
 If you wish to move mountains tomorrow,
you must start by lifting small stones today. ~African Proverb
 Everything you want is out there waiting for you to ask.
Everything you want also wants you. But you have to take action to get it. ~Jack Canfield
 So many of our dreams at first seem impossible, then they seem improbable, and then,
when we summon the will, they soon become inevitable. ~ Christopher Reeve
A life spent making mistakes is not only more honourable,
but more useful than a life spent doing nothing. ~George Bernard Shaw
Inaction breeds doubt and fear. Action breeds confidence and courage.
If you want to conquer fear, do not sit home and think about it.
Go out and get busy. ~Dale Carnegie
When you are living the best version of yourself, you inspire others
to live the best versions of themselves. ~Steve Maraboli
If you want something you've never had, you must be willing
to do something you've never done. ~Thomas Jefferson
The best way to predict your future is to create it. ~Peter F. Drucker
Don't let someone who gave up on their dreams talk you out of going after yours. ~Unknown
You can't cross the sea merely by standing and staring at the water. ~ Rabindranath Tagore
Don't be afraid to take a big step. You can't cross a chasm in two small jumps. ~ David Lloyd George
If you have built castles in the air, your work need not be lost;
that is where they should be. Now put foundations under them. ~Henry David Thoreau
 Every great dream begins with a dreamer.
Always remember, you have within you the strength, the patience,
and the passion to reach for the stars, to change the world. ~Harriet Tubman
There are some people who live in a dream world,
and there are some who face reality; and then there are those
who turn one into the other. ~Desiderius Erasmus
Leap, and the net will appear. ~John Burroughs
Don't wait for the perfect moment. Take the moment and make it perfect. ~Unknown
Feeling inspired now? Feeling motivated? Awesome. Go out there and get busy! What will you do today to move yourself closer to your dream?
photo credit: pixabay.com cc